Social Media Marketing

Learn how to gain awareness and create sales for your business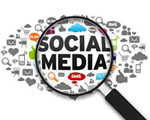 Social media is a must for all small businesses. In today's world, it is a necessity to gain awareness of your brand, confirm you're safe to do business with and most importantly: create sales! To succeed you need to use social media properly, not just throw posts up at whim. Consulting Sensei will teach you how to professionally use social media to your benefit.
To start, we'll analyze your business sale goals and how this translates to Social Media platforms. We'll share tips and ideas to enhance your listings – while confirming you are using the correct platforms.
Through two lessons you'll learn when to use Facebook, Twitter, Instagram or other sites for specific posts and results. You'll learn how to post: length, focus and look. You'll be given tons of examples to use, details on formatting and the importance of paid ads.
This Social Media Marketing package includes:
One 2-hour meeting connecting your sale goals with social media opportunities
Second 2-hour meeting breaking down the differences of all social media platforms.
Yours to keep printable details for social media platforms including types of posts and sample posts for each platform.
Important Details:
Lesson will take place in Bend, Oregon or over Skype/phone.
We recommend that the business owner or all committed employees who will responsible for the businesses social media participate in both lessons.
Package Overview
2 lessons to learn how to use social media for your businesses gain
Be educated on the many social media platforms and which work for your business
Understand how to correctly post on each platform.
Take home printable information full of post ideas
"Consulting Sensei has all the skill sets and business acumen you need to make your business presence on social media successful.  Melanie has a very efficient and professional attitude. She taught me a lot, which will be useful in strengthening my future social media presence. I am sure your investment in Consulting Sensei will produce solid outcomes for your business."
- Sally Russell